NITEPPL was an electronic music group consisting of myself, (Gage LM Seber) & Alton San Giovanni. The group was formed in 2010 in San Francisco. It began as a collaboration between its two forming members in which I would create the artwork and branding for the band including posters, album covers and even characterizations, and Alton would produce the music. Eventually though, as both of us were musicians, we began to work on songs together and try out ideas that both of us had. We were living in a 1 bedroom apartment in the Tenderloin district of San Francisco at the time and were very poor. So instead of going out and partying with friends, we stayed in and wrote music and dreamed up our ultimate electro-rock group taking after the likes of Daft Punk, Justice, and Gorillaz. 
Eventually, we had our very own demo. It consisted of 4 songs: 
Arrival

- an epic electro opera of sorts with sweeping guitar solos and fast paced, four-on-the-floor dance beats. 
Bach To The Future

- a tech house style trance with some classical overtones. 
Sleep to Dream (Remix)

- an electro remix we had done for a competition. 
Nitelife

- a song that would become the hard-hitting club banger that drove our group to relative scene notoriety in the city. 
This demo was put onto Soundcloud.com which at the time was a really amazing way to interact with other artists, get involved with remix contests, and eventually keep a dialogue with fans and cultivate a following. Our song Arrival blew up on there reaching 10's of thousands of plays in mere weeks–a reaction neither Alton nor I expected. This got the attention of a local record label called Our House Records who's artists Realboy and Dynamics were climbing the electronic music scene latter in the Bay Area and Los Angeles.
 NTIEPPL signed with OHR in the fall of 2010 and quickly began playing shows alongside the likes of Realboy, Liam Shy, K-Theory, Manics, Cyberpunkers, SebastiAn, T.E.E.D, Danger, Yuksek, MPHD, and Madeon. We played on the OHR float at the 2012 LovElution in Oakland, as well as threw monthly shows at Supperclub in SF called 'Pillow Fight' - these became very popular and were somewhat of a 'who's who' of the SF electronic scene. 
In 2012, Alton and I experienced some creative differences. I was also dealing with some pretty heavy family issues that had me caring for my mother in the wake of a traumatic incident. This resulted in NITEPPL's parting of ways shortly after the release of our first official album 'Cult'. The album released on Spotify and iTunes (now Apple Music) and is also available on Soundcloud, Bandcamp and Beatport. All along, I created the artwork and the visual identity of NITEPPL including (with Alton's assistance and input) our stage performance visuals. We even at one point partnered with Marin Ballet to feature a choreographed set with live dancers on stage. It was a pretty spectacular show and a cherished memory. 
The following pages feature just some of the imagery created for NITEPPL. Unfortunately much of the original artwork was lost when I had a computer and portable drive stolen. This forever taught me the value of multiple digital backups. These designs were created when I was 19 - 21. There is a lot I'd change going back now, but I love them just the same and they are a part of my design journey and deserve to be featured here. 
The final page of the series features the album cover for Alton's latest single 'Slowerrr' (released in March, 2021). We recently begun collaborating on art/music again. It feels like a full circle moment for the both of us and hopefully new and exciting art will grow out of the rekindling of our creative relationship. The album cover features various layers of photos from our era in the band NITEPPL including live shows, tour photos, goofy imagery, and professional photo shoots as well as some of the original artwork from our E.P.s and concert posters.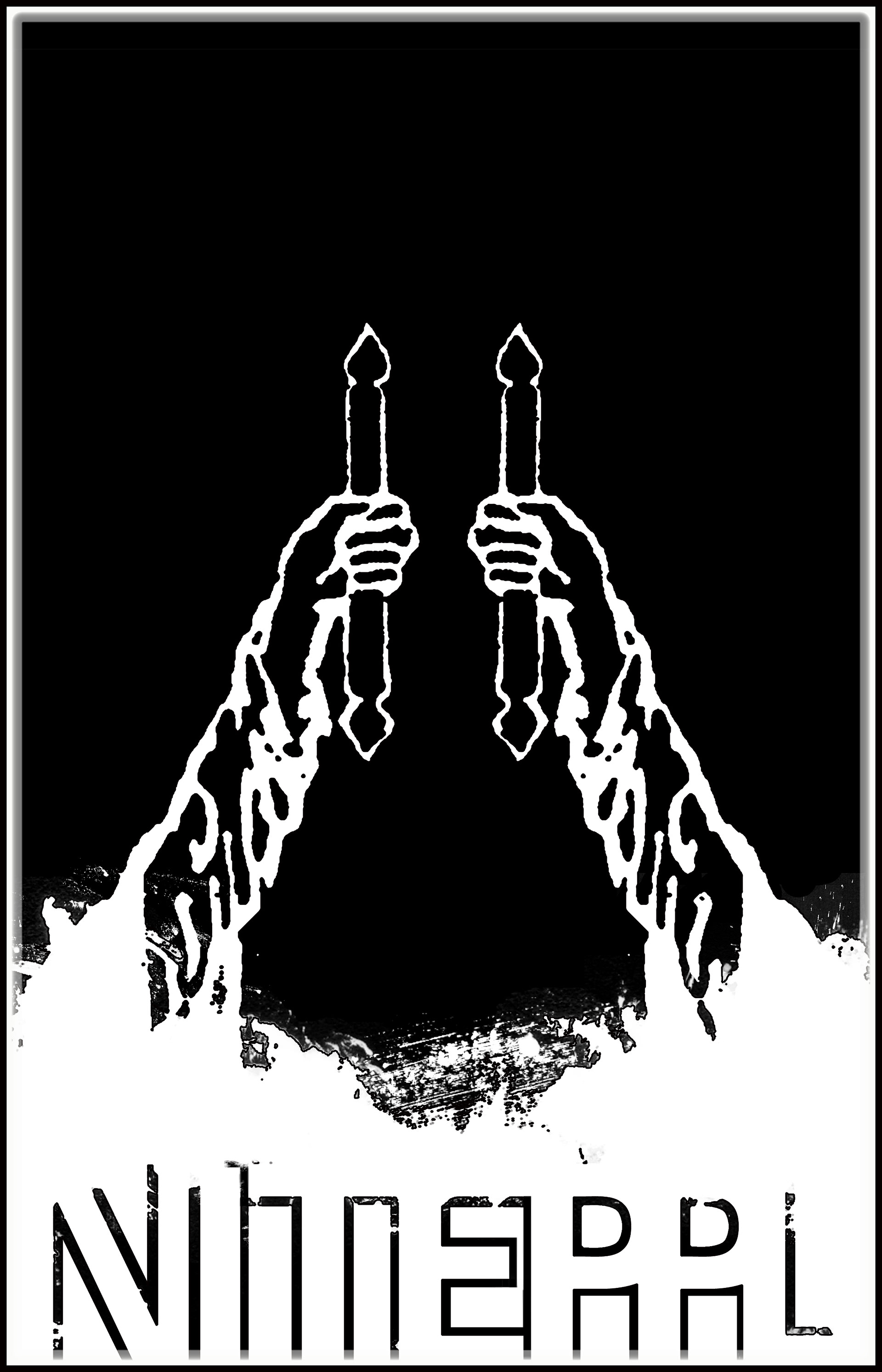 This revision of my first ever graphic for the NITEPPL project was the final piece of artwork I created for Alton and I. This was meant to be the graphic for an upcoming line of merch we'd planned. It was used as one side of our business cards and appeared on a poster for one of our final shows together but was never used for the apparel. I felt it was the final evolution of that first graphic and showed how far we had come and the commitment we'd given to the project. The end of NITEPPL was one of the hardest times in my life. It was filled with loss on many fronts and ultimately caused me to take a plunge off the deep end onto a new path in life. This black and white logo felt both refined and bold and reflected the end of an era for me. With the twin hands holding aloft the candles with flames at both ends was inspired by the classic Rider-Waite Tarot deck card 'The Magician'. My mother had given me her Rider-Waite deck when I was a child and it, to this day, is one of my most cherished possessions. 
Finally the disco image on the far left was for the single single for 'Philadelphia', an epic, electro-rock/disco anthem. The original cut for that track was over 7 minutes long. We later shortened it for the album release.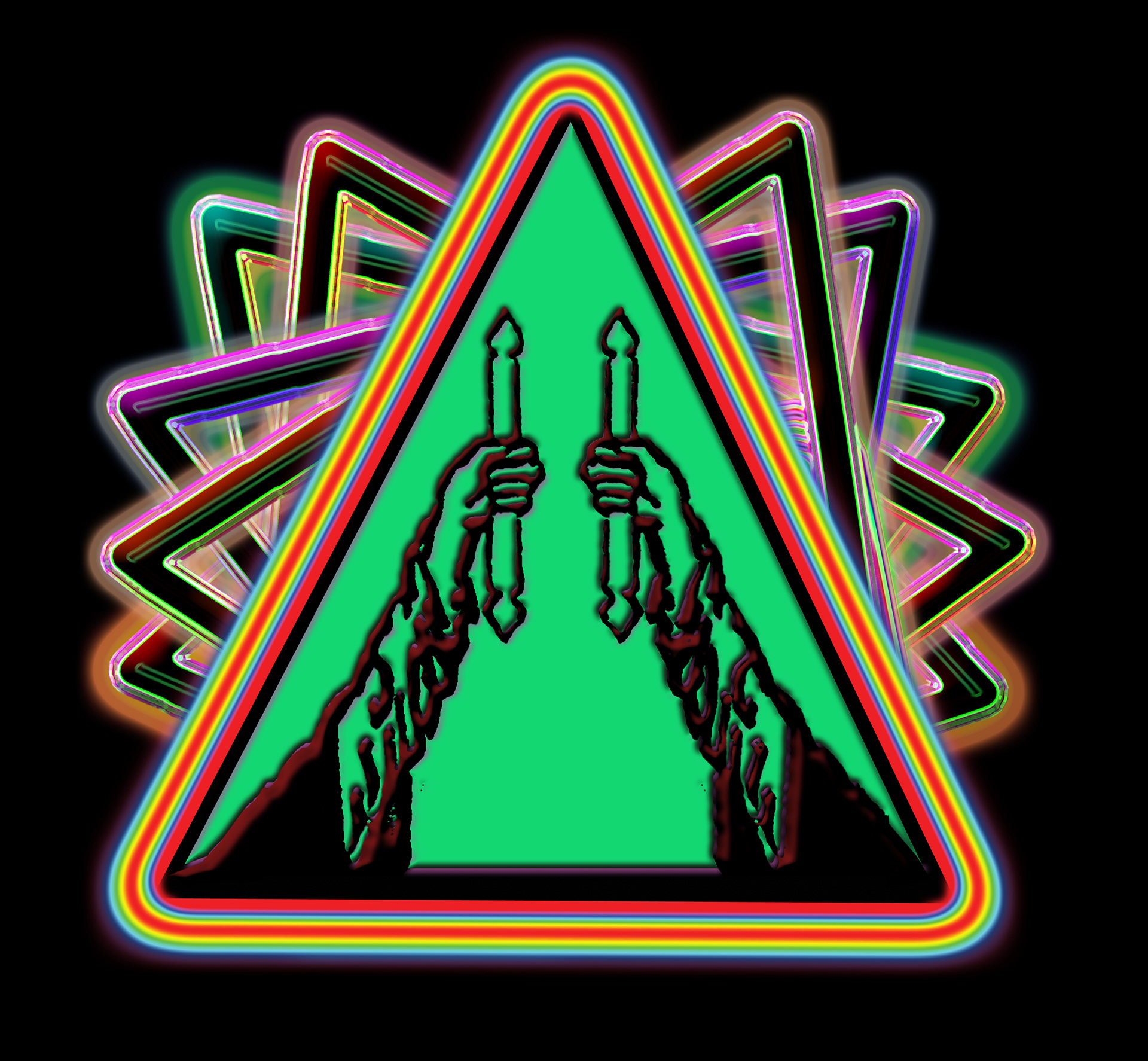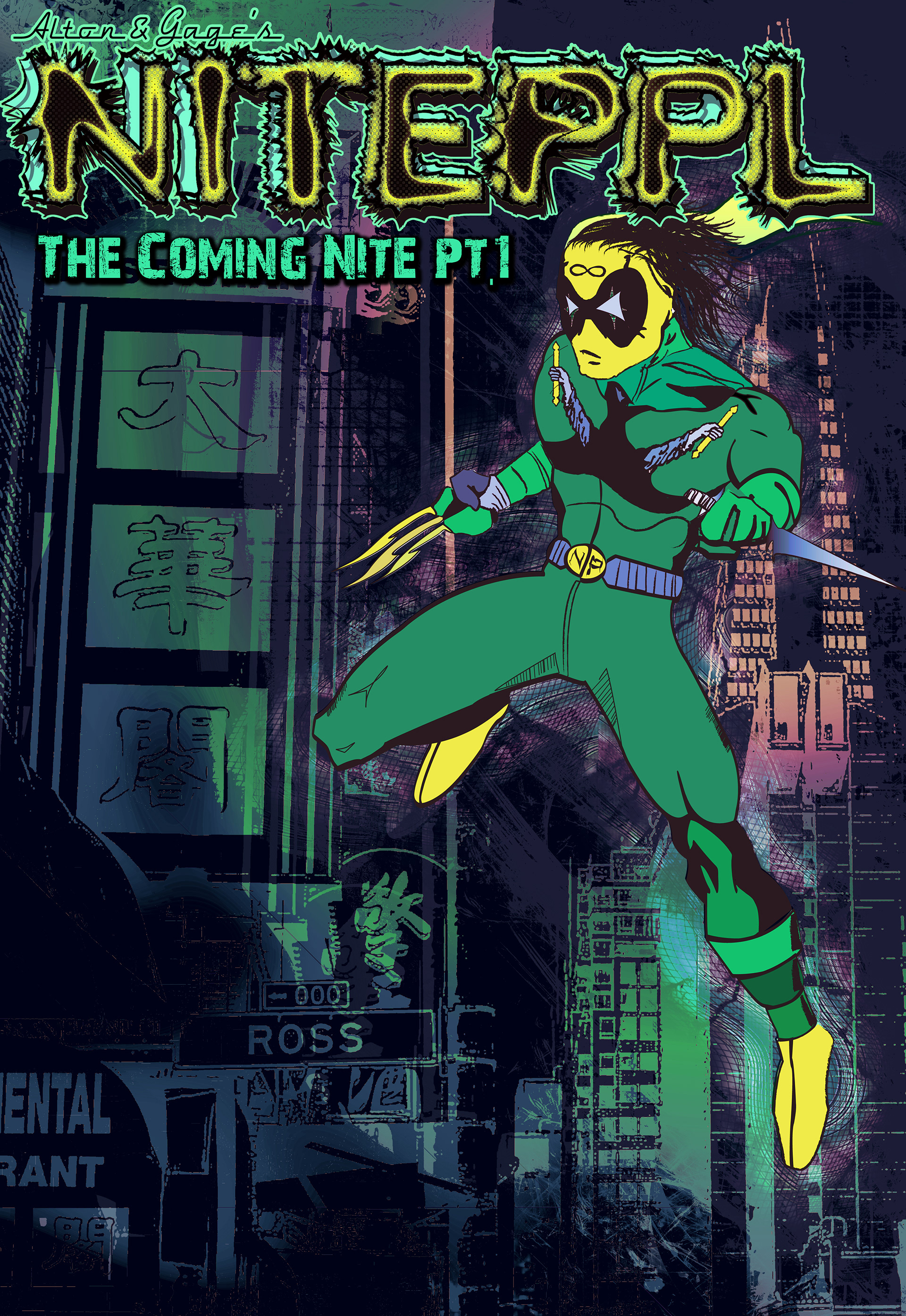 At one point, Alton and I kicked around the idea of there being a running comic book that would tell the 'story' of NITEPPL and help fill in the gaps of our mostly lyric-less songs. Together, Alton and I had dreamt up a whole saga of stories and characters for the NITEPPL project and were looking for possible mediums through which to tell it. A Comic series or Graphic Novel seemed like a good potential platform. But at the time we didn't quite have the wherewithal to diversify our creative energies that way. We were too wrapped up in maintaining our musical output and playing as many shows as possible to keep relevance in the scene. I would have loved to see this dream become a reality but alas all that ever came out of it was this piece of art that was a mock-up for the cover of the first issue. The character on the cover was modeled after a super-fan of ours, who was also a DJ in Australia, under the alias, Four-Million Fingers. In the comic-verse I had him as a crazed fanatic who predicted the coming of the NITEPPL to our solar system and began the Guardians of the NITEPPL in San Francisco. The Guardians were to pull off a spree of extremist/activist-style stunts to alarm and alert the world of its impending doom. The Guardians would eventually be rivaled by another underground secret society that yearned to bring the NITEPPL to Earth to cleanse the globe of humanity. That group was called The Cult and would eventually be the inspiration for the story of our first full-length album under the same name. 
The original 'Cult' E.P. cover is on the bottom left and is modeled after the 'They Live' phrases featured in the film.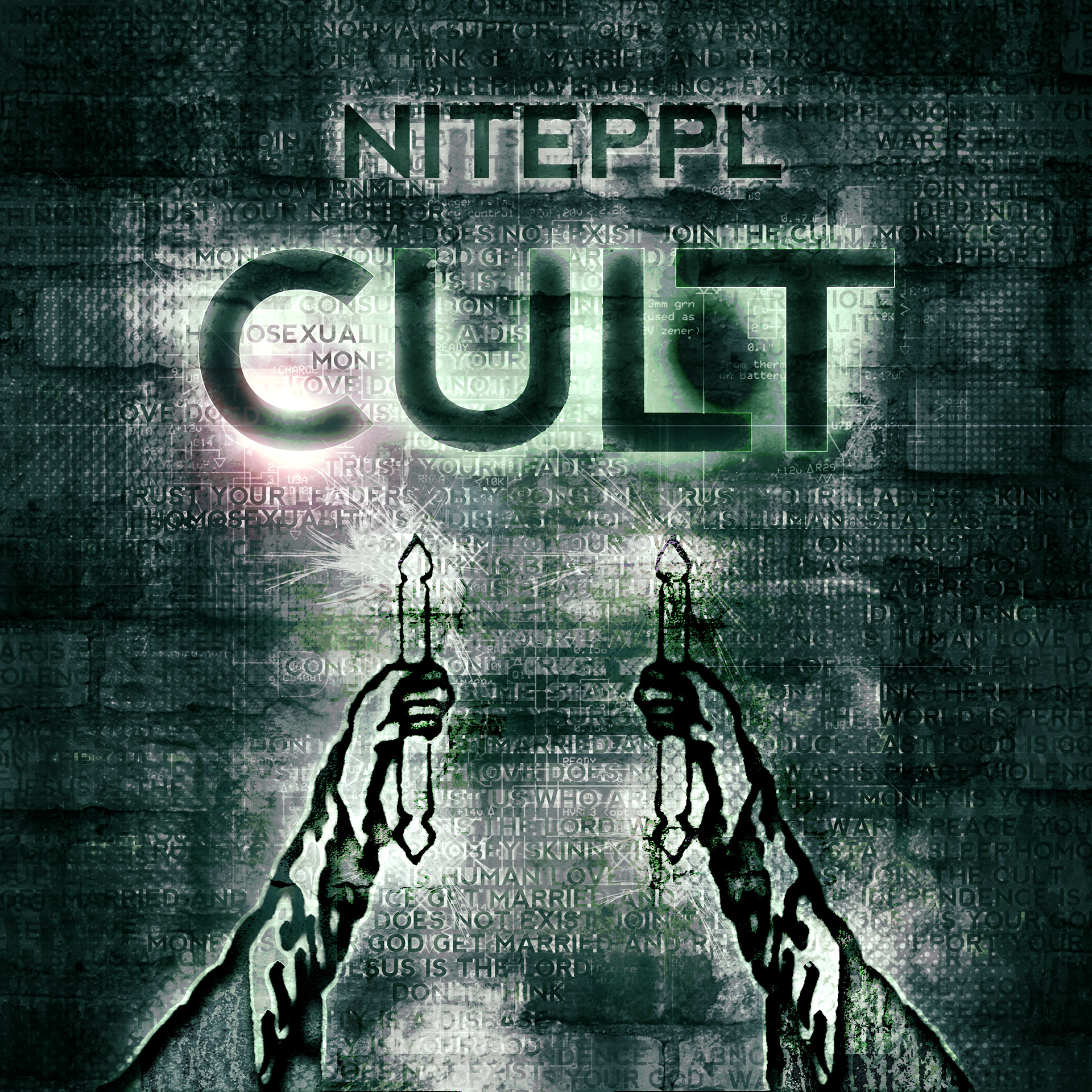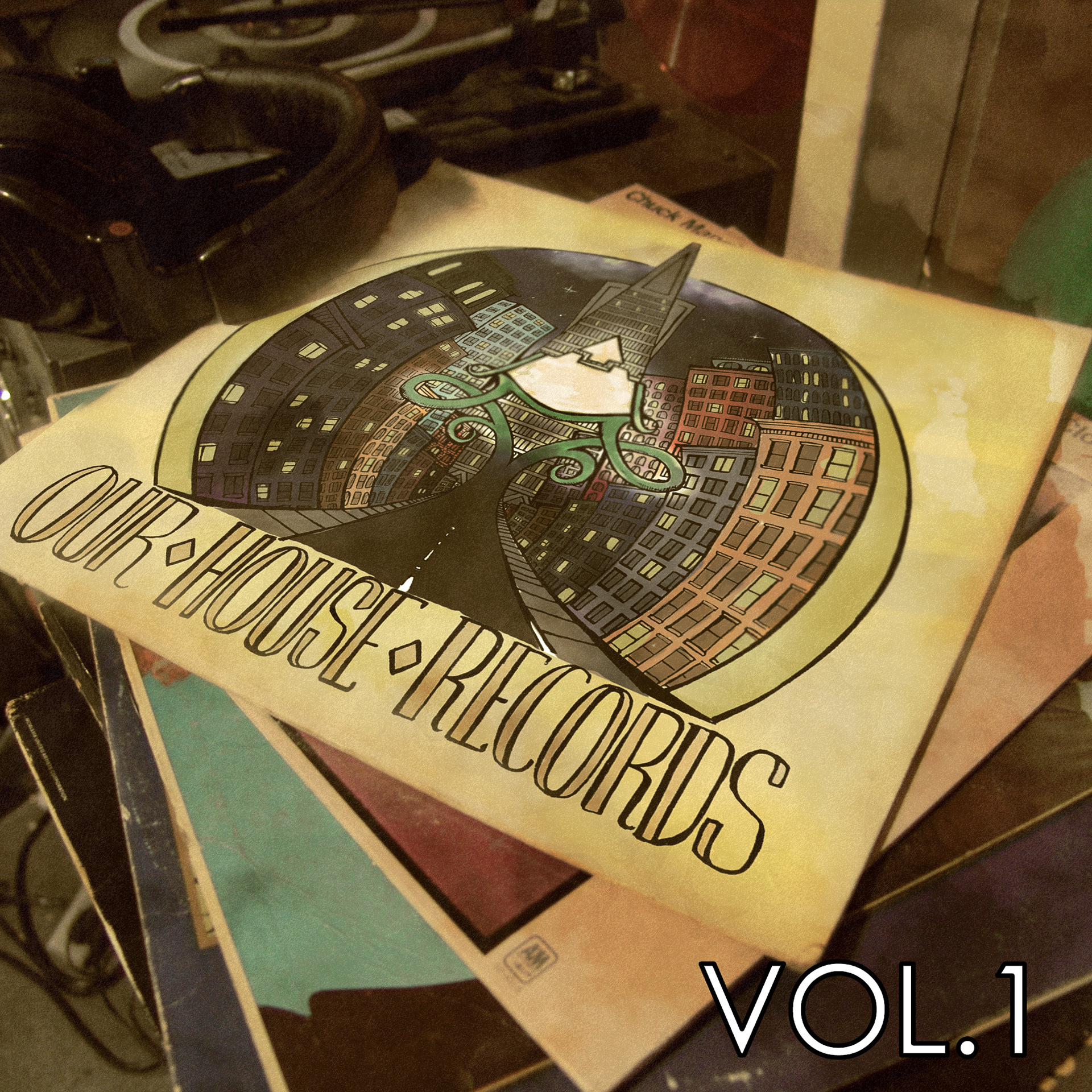 In 2010, the Electro Duo, NITEPPL, of which I was one of the two founding members, signed with a small record label in San Francisco called Our House Records (OHR for short). This began my collaboration with OHR's lead graphic design/advertising director Austen Jacobson. Together he and I created several album artworks & print designs for shows and album release promotions. 
The image featured on the left was a collaboration between Austen, myself, and Danielle Teaderman, an illustrator, now based out of Los Angeles. Teaderman's wonderful adaptation of Austen's OHR logo became the centerpiece for this altered photo that became the album artwork for the OHRVOL.1 release. This E.P. featured tracks from OHR's newly signed artists/groups including the electro duo NITEPPL, electro swing fusion group Realboy, and the nü disco duo Dynamics. 
The record was successful in its mission to spread word of these newer artists in the local scene and act as a bit of a demo/audition for live performances and collaborations with local production companies. 
This album caught the attention of local Trance guru, Liam Shy. OHR and Shy would go on to start a monthly party at Supperclub SF with a rotating cast of local DJs and electronic dance groups. 
Each group had a featured track on this E.P. with a bonus remix from Realboy of NITEPPL's debut single release under OHR, Arrival. 
The Scanner was a NITEPPL single written by Alton San Giovanni with some instrumentation by myself, Gage Seber. This artwork was a collaboration with illustrator, Gino Dilorenzo. Gino was the roommate of my booking agent at the time. I'd continually see him sketching and one day saw him working on some sort of robot/android thing. This song 'The Scanner' was about this sort of ultimate intelligence that scanned the universe for this dark energy called the 'NITEPPL' which was a sort of planet/life consuming force for which our group was named. I asked if he could tweak the sketch a little and do a fresh one with that concept in mind. What he came up with just absolutely nailed what I'd dreamed of. I then did the shading and coloring digitally and created the typography for the single as well. I still think this piece captures much of the idea behind the NITEPPL aesthetic.